ABOVE THE CLOUDS: Oregon stratovolcanoes Mt. Bachelor and Mt. Hood take skiers to great heights in the High Cascades … and then there's the yummy Oregon beer!
Story by Gordie Bowles. Photos by Paul Morrison.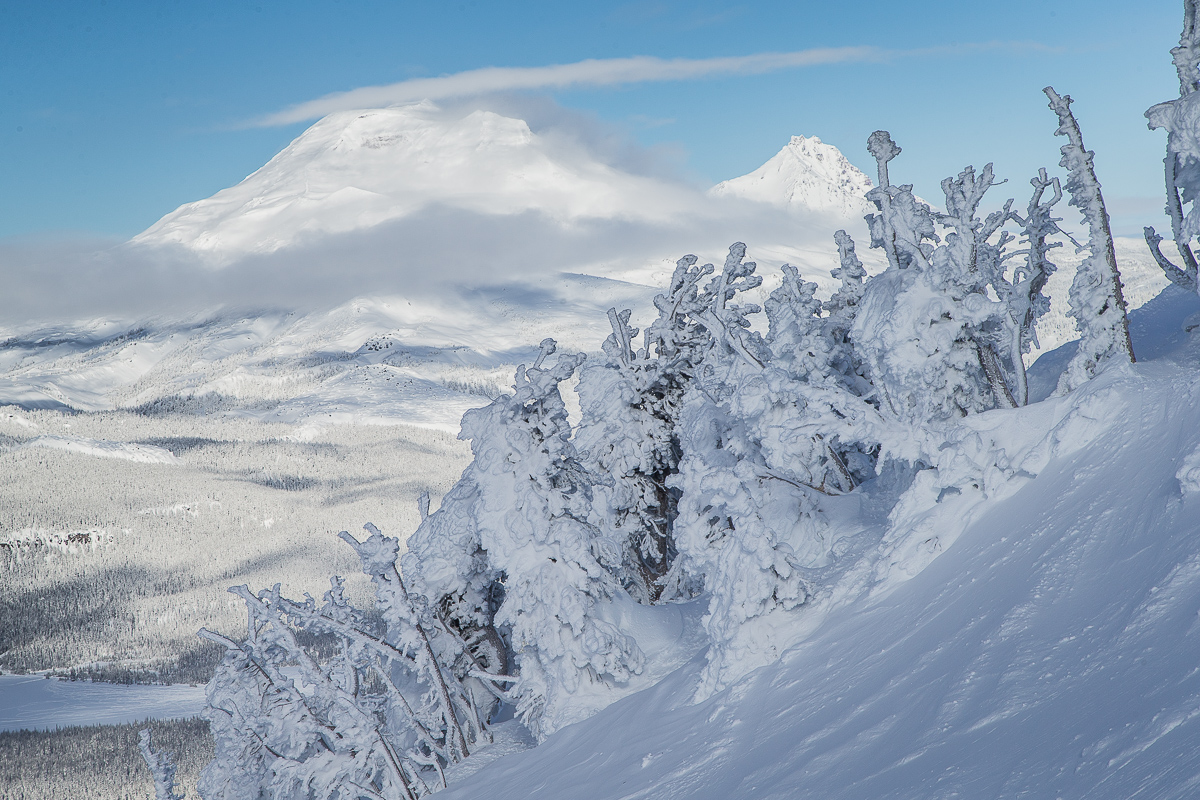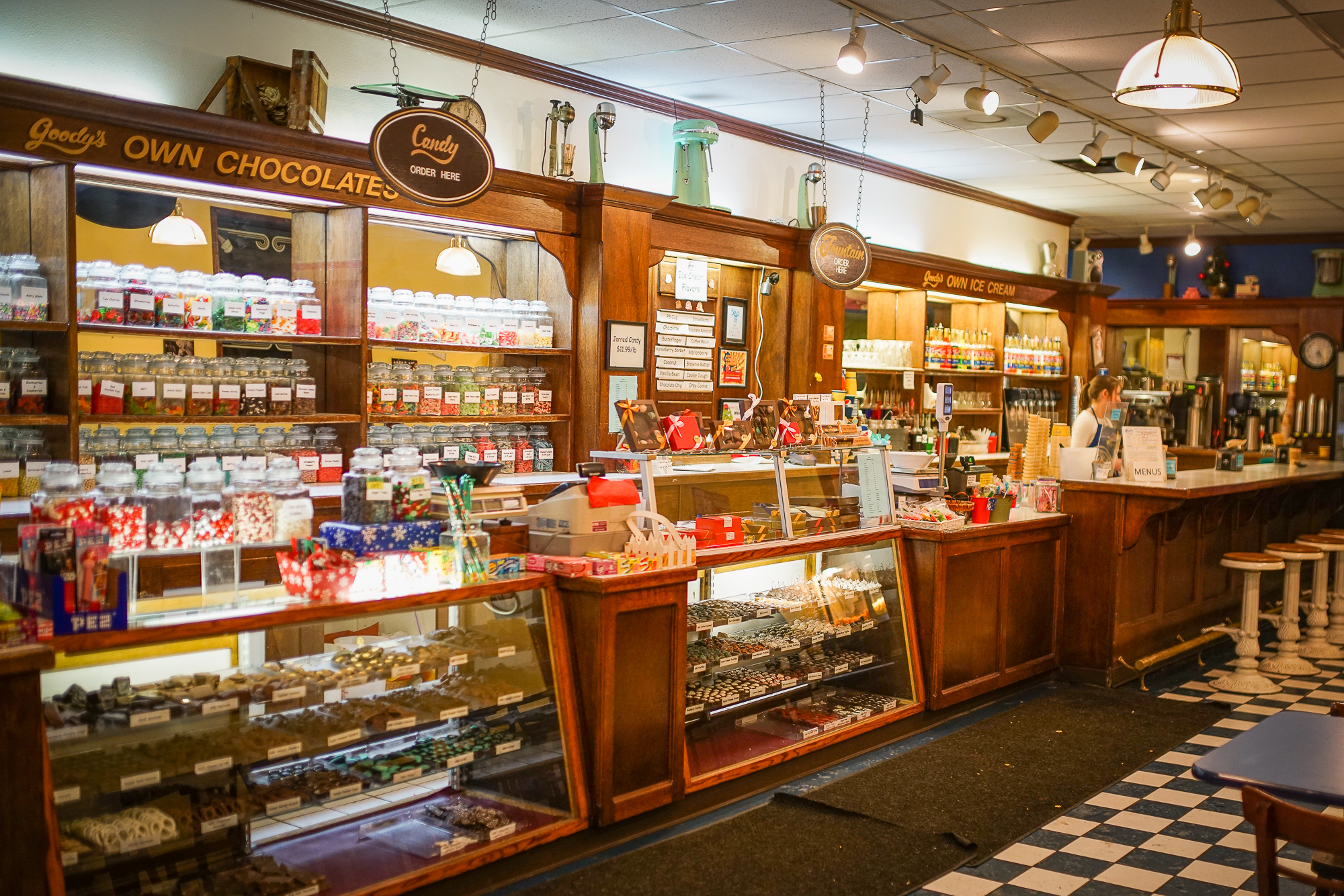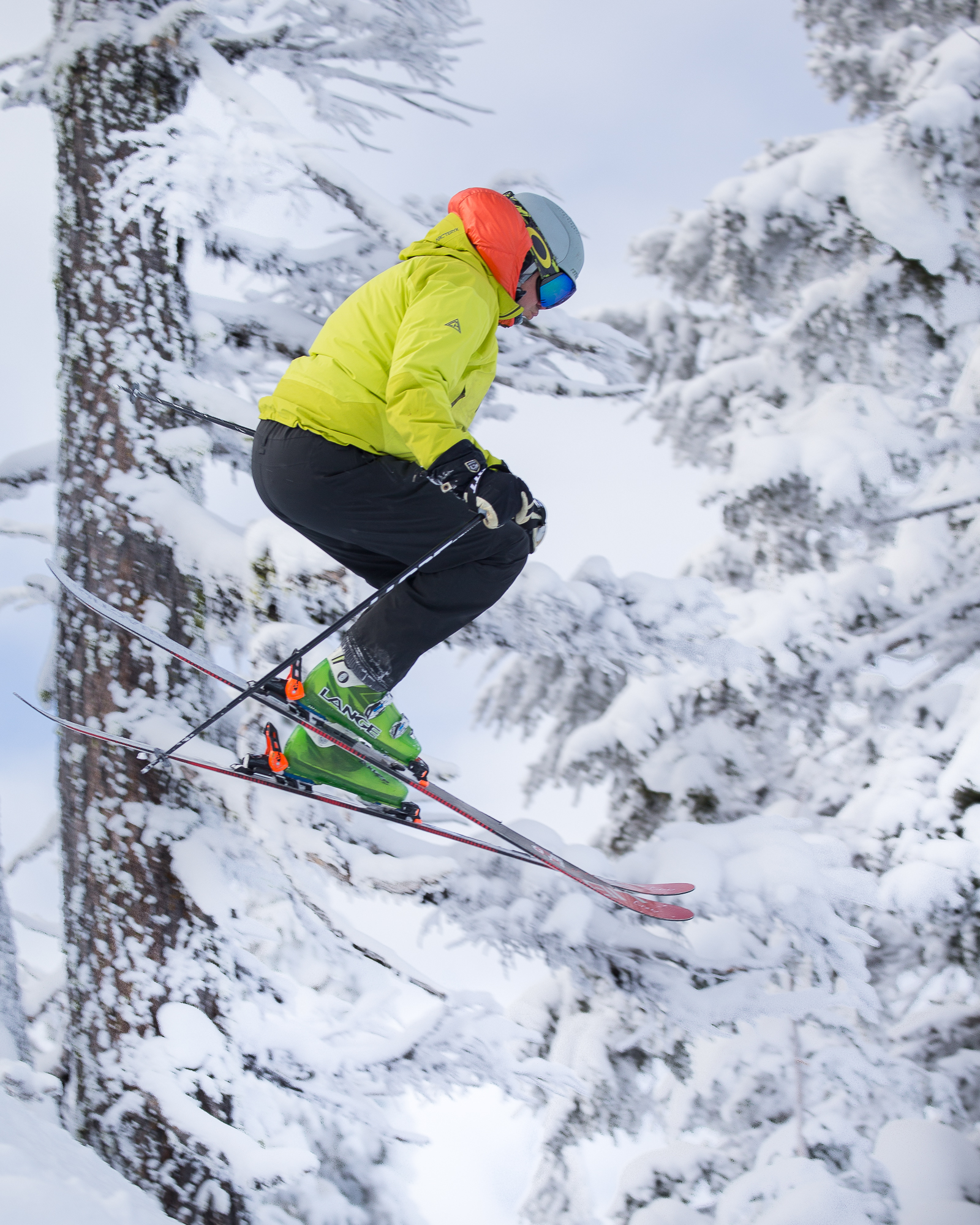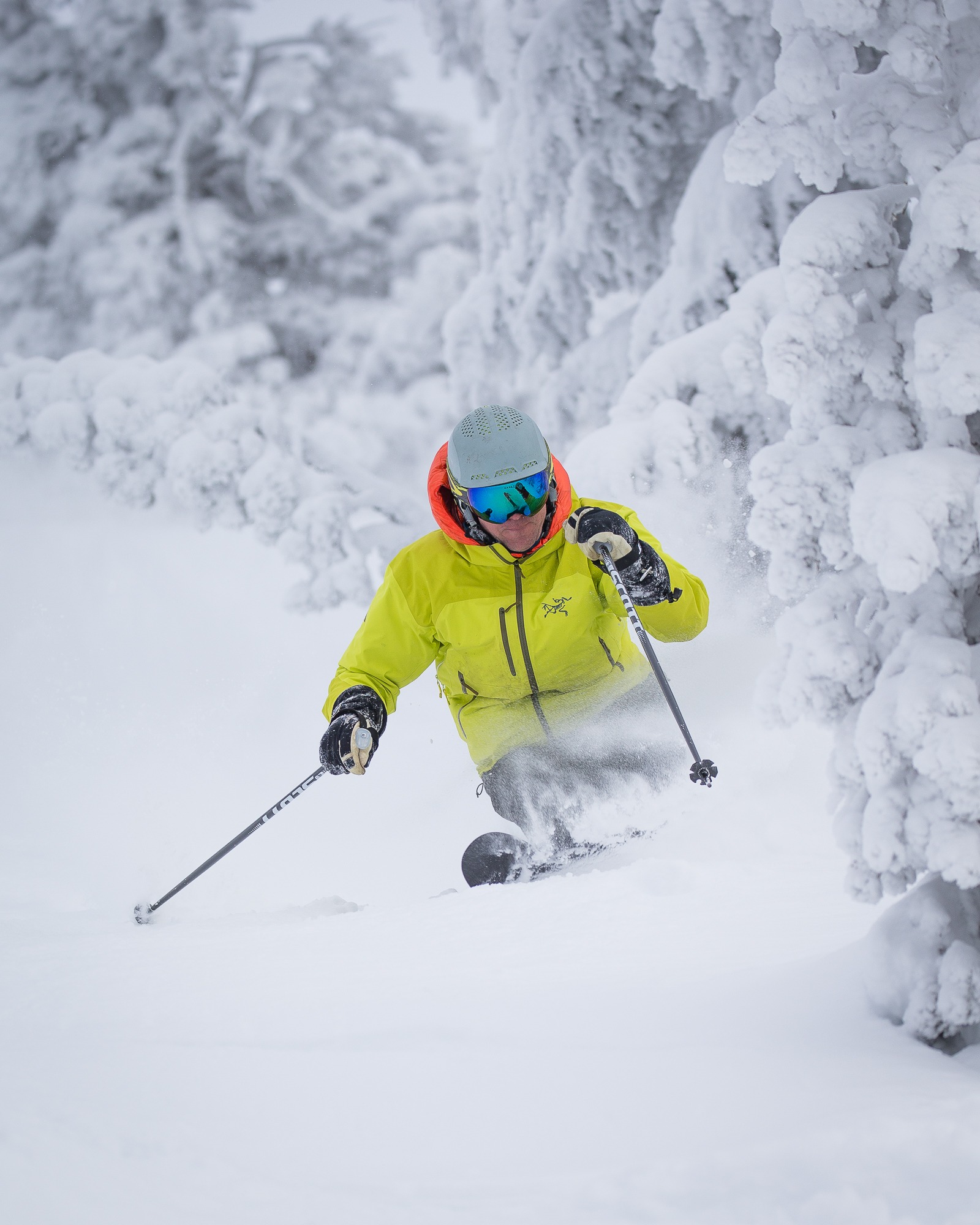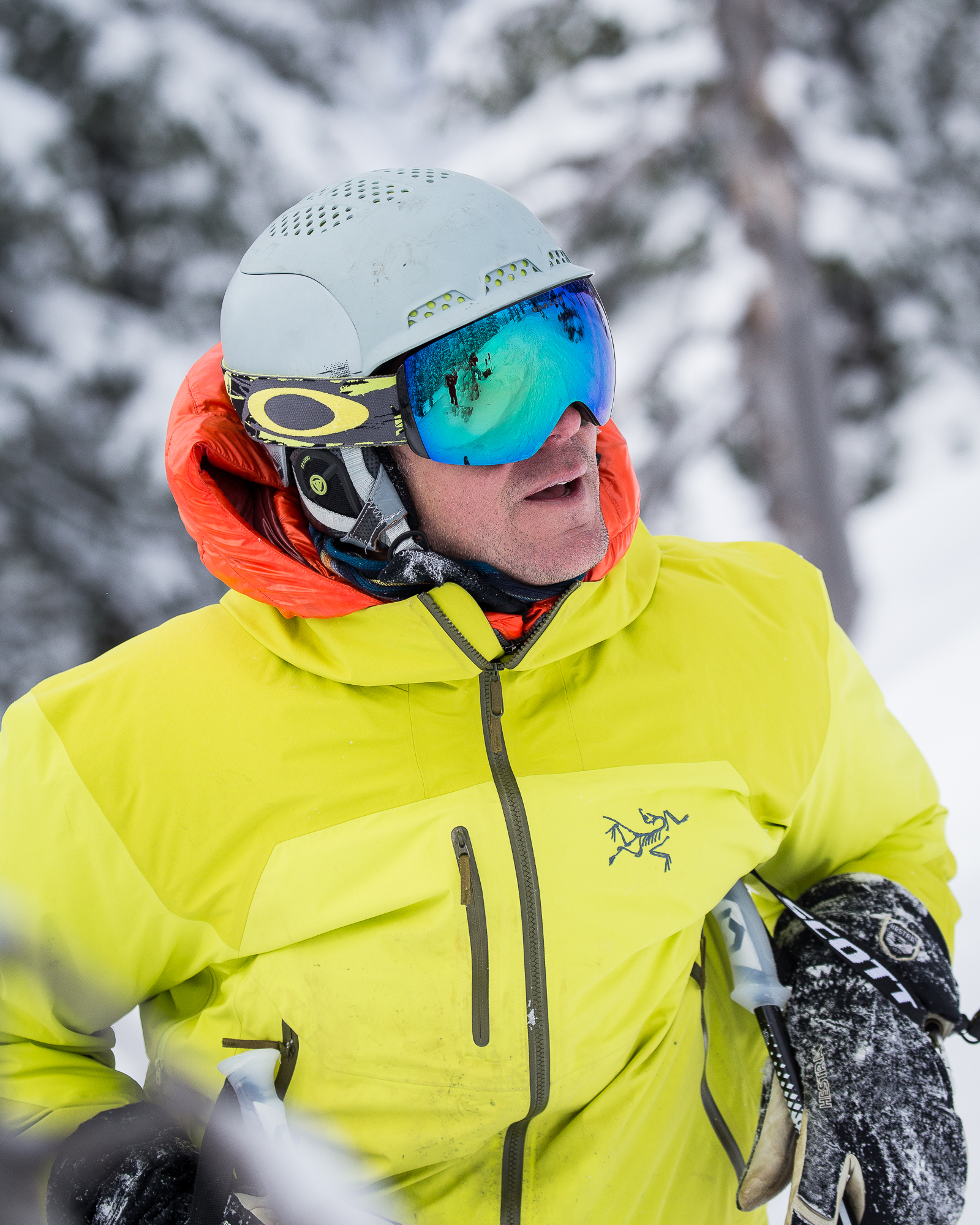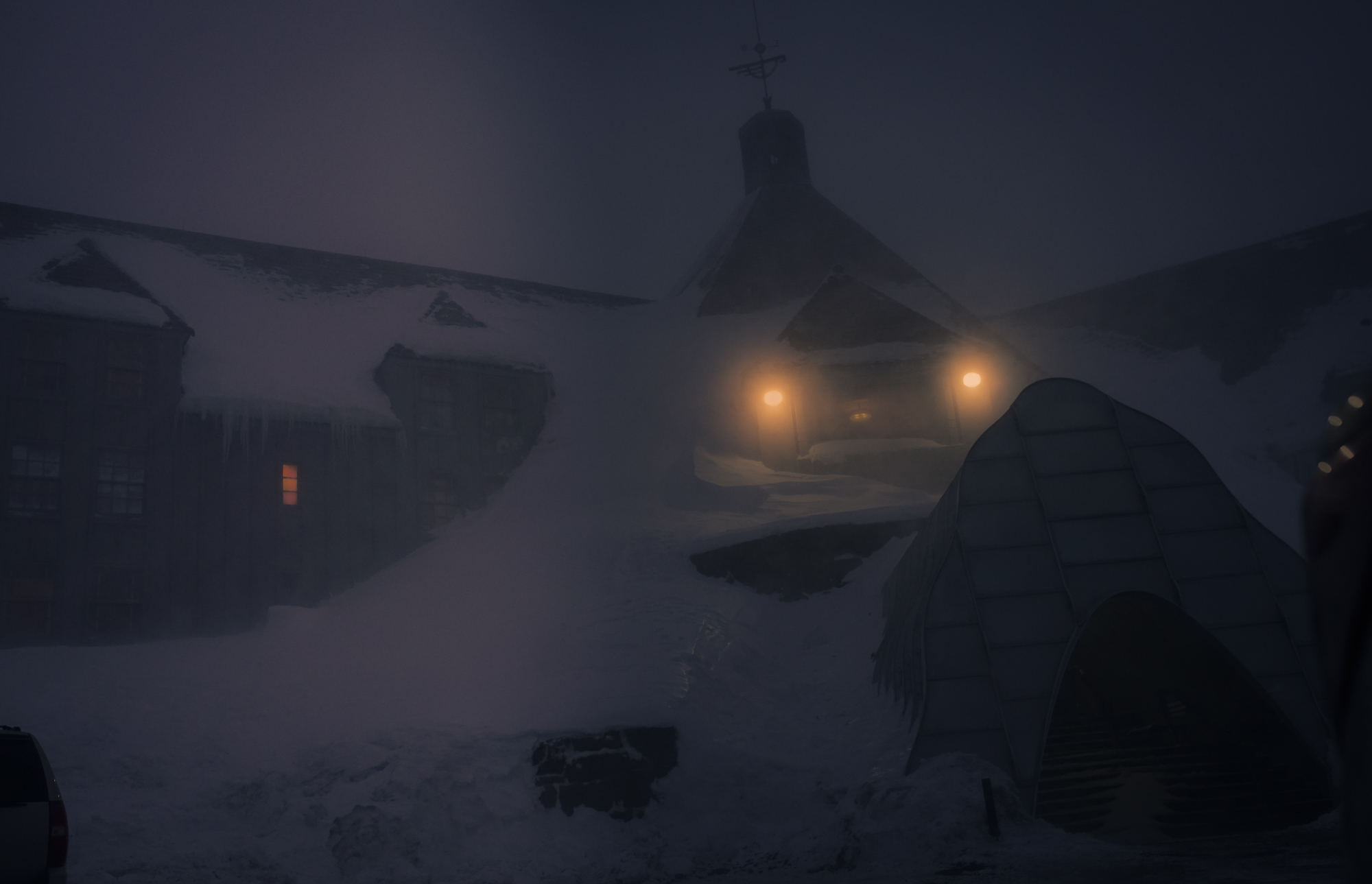 BEND/MOUNT BACHELOR: Chasing clouds
The last time I visited Bend and skied Mt. Bachelor, the snowbanks were easily this tall. I love it when I can't see the houses as I'm driving by. But that was 1993 – and it was also the last time this gem of a ski town had this much snow, according to a local I met at the Crow's Feet Commons, one of the many hipster cafés and world-class microbreweries in this central Oregon city.
So it must be me, right? Bend loves me. And I love it right back.
When you hit it right here, the abundance of snow in the High Cascades is overwhelming. Roofs collapse, schools shut down, and roads close, interrupting food and mail shipments (yes, mail still matters). Tow-truck companies operate at capacity, and locals are generally frothing at the mouth to hit this beast of a mountain, the stratovolcano that dominates Bend's horizon.
When our crew arrived, it was late and we were travel weary, with minimal brain activity. I'm not sure I even noticed temps were hovering in the -20 C range until the next morning. Our digs for two days in Bend – at the boutique-style hotel at the Tetherow Golf Resort – were crazy nice. The kind of nice where you don't want to fall asleep because you haven't tried on the luxurious hydro-cotton bathrobe or lounged on the leather sofa in front of the pre-made fire. But this night, the smell of honey and lavender from the soap would have to suffice as I drifted off.
The storm was still relatively fierce the next morning, but we slowly made our way up the Cascade Lakes Scenic Byway to the ski resort, settling into our first ride up around 10 a.m. How lame of us – the locals had already pounded run after run after run for two hours by the time we arrived. But where were the tracks? We skied pow all day long and I hardly saw a line. It's almost as if Mother Nature came out with a Zamboni every hour to make everything perfect again.
I had a unique sensation when I reached the top of Bachelor. Skiing on a volcano with 360 degrees of access is something to behold. I have this odd habit of letting my mind drift in these moments to wonder what the pioneers thought of the view when they "discovered" this perspective.
But our crew was on the clock, with both TV and print crews in tow, so we decided to divide and conquer. Stirling Cobb, the resort's marketing manager, was showing us the mountain, and from his appearance I knew we were in for a rip. He had big fat skis, tattered and worn poles and an eager look that said, "Enough chatter – let's go." My type of skier.
Esteemed ski photographer Paul Morrison and I spent the next few hours with Stirling, randomly pointing to pockets and pillows of snow on the vast mountain and asking Stirling, "How about there?" "Sure," he'd say. For the remainder of the day, "sure" was our segue to the next pocket, the next ridge, the next pile of snow so deep it was ridiculous. "Tough job, eh, Stirling?" Yup.
The skiing here funnels all skiers and riders to the same cat track at the bottom, so it's pretty hard to get lost. There's no cliffing-out, like in Whistler or Jackson Hole – Bachelor is not that kind of mountain. The trees can be deceiving, at times appearing too congested but nearly always skiable.
Two days here was the blink of an eye. You really need much more time to properly cover this mountain – we weren't even able to get over to the newly opened Cloudchaser, a $6 million lift that added another 635 acres to the skiing options and transformed Mt. Bachelor into the fifth-largest ski area in the United States. Still, it was time to move on to our next Oregon adventure stop.
But first, another quick visit to Bend.
It would be sacrilege not to stop at Deschutes Brewery, or any of the 22 such establishments in this town of 90,000. The Deschutes, named after the iconic river that winds around and through Bend, is the gold standard for high-quality craft beer. I remember from my days at Central Oregon College in the early '90s that the classics here – such as the Black Butte Porter and Mirror Pond Pale Ale – are impressive, but the seasonals are equally up to the task. I tried Jubelale, a somewhat spicy and robust ale that paired really well with a mushroom and truffle pie. Life is good. (Side note: the great thing about travelling with a crew is there are always designated driver options. Rock, paper, scissors!)
TIMBERLINE LODGE: Here's Johnny
As we drove north out of Bend past Smith Rock towards that other volcanic monstrosity, Mt. Hood, conversations circled around The Shining. Stanley Kubrick's 1980 cult film was partially filmed at Timberline Lodge, our home for the next two days. You know it: "All work and no play makes Jack a dull boy."
As we got to the base of Mt. Hood, it was pitch black outside and the wind was howling. "It's kind of windy," Paul stated. It was a surreal moment, actually, winding up the road with odd-looking moss creatures blowing across, until we eventually pulled into the Timberline Lodge parking lot at 6,000 feet. It felt like our SUV was about to take off, Gordie and Paul never to be heard from again. I opened the door and the wind grabbed hold of it (and me) and took control. One of my gloves (my favourite gloves, of course) was sucked out of the vehicle and shot into space. I mean gone. "See you inside," I screamed to Paul as I scrambled to the lodge entrance. I'm a west coaster and have spent considerable time on the ocean – I know wind – but this was something else.
I checked into my quaint wood-panelled room and felt like I had stepped into a bygone era. History oozed from every nook and cranny. I pulled out my iPhone but it felt wrong in my hand, so into the drawer it went as I reached for The Oregonian newspaper instead.
The next morning, I awoke feeling very cold, and as I looked toward the window I noticed four inches of snow inside my room. The wind was so severe throughout the night – reaching more than 200 kilometres per hour – that snow was finding its way through even the most microscopic of cracks.
The mountain was a mess. Car windows were broken (a Thule box was ripped from a truck) and the concierge said the ski hill would be closed for the day. This is not a regular occurrence here – when I spoke with Frank, the manager since the early 1980s, he mentioned this was the worst windstorm that he could remember. Then he had someone promptly clear the snow from my room (13 shovels full!).
So, we were grounded. At breakfast, the crew reconvened and quickly realized the opportunity before us. The building we were "stuck" in for the day could perhaps be the most remarkable piece of architectural art this side of the Rockies. There's nothing like it. Constructed during the Great Depression as part of President Franklin D. Roosevelt's Works Progress Administration (WPA) program, the lodge is still functioning as it was originally intended: as a place for visitors to experience Oregon, a true mountain retreat to enjoy.
WPA construction in the 1930s provided jobs for the unemployed – with skilled workers receiving $0.90 per hour and unskilled workers $0.55. Crafts included both carved and inlaid wood, wrought iron, weaving, ornamental needlework, painting, mosaics, carved linoleum and stained glass. We spent the day admiring the Cascadian architecture, complete with the finest details of wood and ironwork, the fruits of those labours. The main headhouse lobby has three fireplaces surrounding the base of a 900-foot chimney.
It was an incredible day of admiring real and lasting art. But it was also time to ski again.
Postcard perfect
With the previous day's storm cleared and gone, the calm of the next morning was equally eerie, at least for a few moments. It was peaceful and quiet; the contrast of the pristine white mountain on the deep-blue sky the stuff of postcards.
The skiing on the upper-middle part of this volcano was flowing and cruisy. (Skiing on the upper mountain is mostly for the summer months; the lifts are easily buried under the snow during winter.) The mostly intermediate trails are not the place to break your ski records, but instead a place to find your rhythm and enjoy skiing as a leisurely activity. It's a family-owned-and-operated outfit, and it shows, catering to all ages, big and small.
One fun spot to discover, about mid-mountain, is the Phlox Point Cabin, a tiny but stunning one-room cabin that serves tacos and beer – with an inviting open fire near the entrance.
The incredible Mt. Hood shares its skiing among a few different ski operations, including Mt. Hood Skibowl, the ultimate night-ski option in Oregon, and Mt. Hood Meadows, with its big mountain terrain over 2,150 skiable acres, 12 lifts and 85 trails. When you travel here, there are options.
Aprés with a view!
Our day of skiing at Timberline concluded with a very sweet cherry on the top. Our host, John Burton, the director of marketing, met us at the Timberline Lodge with his world-famous co-host, Heidi, the adorable St. Bernard. Heidi comes from a long line of St. Bernards that are as much a part of the Timberline experience as the timber, iron and snow.
Heidi happily jumped aboard the snowcat (after a bit of coaxing by our crew) and we were off, up the mountain to the Silcox Hut. Dubbed a bed and breakfast lodge, to me it's more of a historical gem that epitomizes the Mt. Hood experience. Rustic and elegant, Silcox is the ultimate place for a retreat or wedding – or simply to sip a glass of Oregon wine at 7,000 feet, alongside a fluffy 150-pound St. Bernard, like we did

PORTLANDIA: Sustainable happiness
The drive to Portland from Mt. Hood is painless and reasonably quick (about 90 minutes). Arriving in this city – easily the coolest on the West Coast (and that's coming from a Vancouver snob!) – the energy is of progression, eco-friendliness, intelligence and culture. The neighbourhoods are vibrant and diverse, packed with eclectic shops, hipster cafés and bike-friendly paths mixed in with the eye-grabbing architecture.
Our crew knew coming in that Portland was certainly a thing. We wanted to discover what all of the hubbub was about. So we set out on the hunt for the Pearl District, an area of town that could be compared to Vancouver's Yaletown or Toronto's Distillery District. The Pearl District is a revitalized neighbourhood of restored and reclaimed spaces like warehouses and railway yards. It's now a swanky hub of loft living, design, stylish shopping, and high-class but approachable restaurants and art galleries. We started at Powell's City of Books – the world's largest independent bookstore (it covers an entire city block) – and then headed to the outdoor shopping area lined with local goods purveyors like MadeHere PDX, Nau and Poler Outdoor Stuff (think action sports meets street) and large brands like REI and Columbia Sportswear. Our heads were spinning.
And then the food!
Named one of the best places to eat in North America by Food & Wine, and called "America's new food Eden" by Time, Portland is home to a creative, accessible culinary scene that goes to great lengths to serve fresh, innovative dishes using local ingredients.
The city is situated at the northern end of the fertile Willamette Valley, and the close proximity to the Pacific Ocean, as well as rivers, lakes and open fields, yields plenty of fresh food.
It has become one of the great centres of food production in the United States, with the agriculture industry in Oregon worth a whopping $5.4 billion. Portlanders eat locally raised foods year-round. Many farms and orchards in the region are open to the public, and within the city there are more than 20 open-air farmers markets, all carrying local (and mostly organic) produce, and regionally raised meats.
This easy access to high-quality ingredients was likely one of the big attractions for the city's award-winning and well-known chefs – such as Vitaly Paley of Paley's Place and Imperial, and Greg Higgins of Higgins Restaurant.
Liquid assets
Craft beverages in the form of tea, beer, wine and coffee are practically national treasures here in Portland.
Craft breweries have given the city the moniker Beervana. There are more breweries here than in any other city in the world, and four of the largest operating American micros – Widmer, Deschutes, Full Sail and BridgePort – all have headquarters or outposts in Portland.
Beer experts stay on top of their game here, as new innovations are combined with the renewal of long-lost traditions. New brewers with reverence for the taste-making pioneers keep the tastes and variety equally high.
And the coffee! A self-proclaimed coffee snob, I love a good cappuccino or espresso. A stop at Heart Coffee Roasters, where locals congregate, featured fresh roasts and quality pours. I was motivated and energized (hands shaking a little) after that stop. Speaking of quality hot beverages, the tea culture has taken hold in Portland, with tasting rooms featuring tea flights and draft teas on tap (you read that right). Wiz Bang Bar serves their blends of tea with soft-serve ice cream. Portland has life figured out!
Sayonara Beaver State
It was painful to leave this state of all things yummy and cool, but Oregon once again left an impression on me that took a while to shake. As the line from the sketch-comedy series Portlandia goes, "The dream of the '90s is alive in Portland." I can't precisely remember the '90s – and I was even in Oregon then – but if that's the case, bring back the '90s!